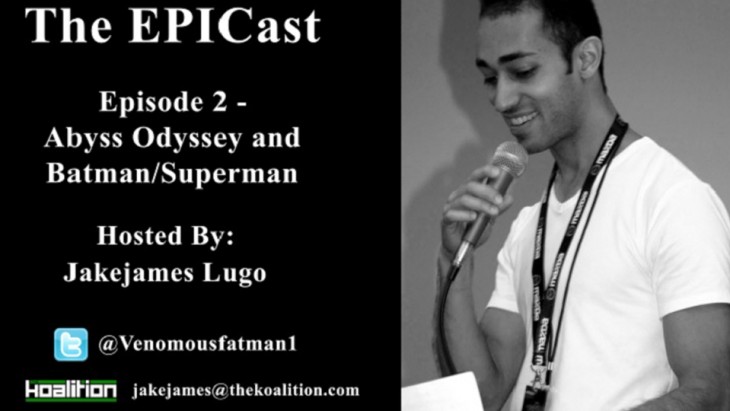 The EPICast – Episode #2: Abyss Odyssey Review, Hercules and Batman vs Superman
I love listening to podcasts just as much as I love reading about video games online. For me personally, podcasting allows for one to add a different dimension to their words and further develop their voice on various subjects. This is why things like The Co-Op Podcast, The Quarterly Report, and other podcasts on The Koalition are always fun to record and put out for everyone to follow. Whether we are talking about gaming as a whole, a genre of game we all love, or the culture behind everything we play, this gives us a chance to really voice our opinions and beliefs about gaming that we normally can't convey when writing out an article on The Koalition.
This requires a different kind of finesse and approach. So I decided to dive even further into the world of podcasting by developing an original show of my own. A show where I could explore the various facets of gaming, movies, pop-culture, and conventions with my own flavor of personality. What came to be was something that was not only fun to record and post for all to see, but something that helped motivate and drive me to evolve in creating more great content for the viewers and listeners out there.
So here it is – the first two episodes of The EPICast.
On the latest episode of The EPICast, I recap my time over at Ultracon of South Florida, review Abyss Odyssey from ATLUS, talk about Hercules staring Dwayne "The Rock" Johnson, and give some insight on the latest teaser for Batman v Superman: Dawn of Justice shown at Comic Con 2014. Leave some feedback, questions, and comments for the show!
Not only do you guys get a fresh new episode with some news covering Comic Con 2014, but also the pilot episode where it all began.
In the pilot episode of The EPICast I review Dawn of The Planet of the Apes, talk about Borderlands 2 for PlayStation Vita, and have a chat about conventions and the convention scene in South Florida.
If you have any questions or comments about the show, feel free to leave a comment below in the comments section. You can even send it over Twitter to @Venomousfatman1. You may even get an answer on the next episode of The EPICast.