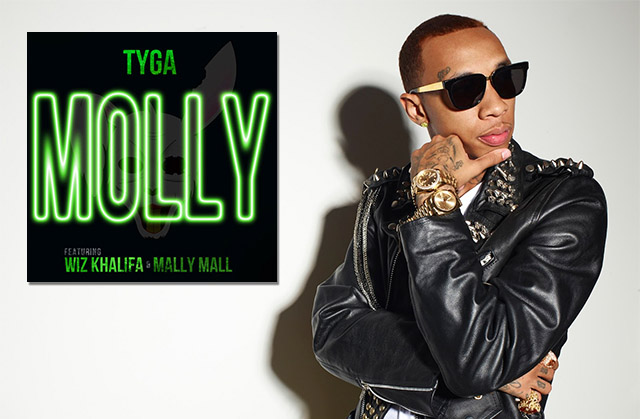 [Hip-Hop] Tyga – Molly ft Wiz Khalifa and Mally Mall
There is no denying that Molly has become a staple in rap music and party anthems everywhere. From  to Trinidad James to Juicy J,  this infectious little pill or powder form has been boasted and dropped by rappers for the past year. So with this exposure to ecstasy inducing drug, there was only a matter of time before a rapper took the chance to make a song dedicated to it, enter Tyga.
Fresh off the success of his previous single, the YMCMB rapper flows over the synth-heavy computerized beat sampled from Ricky Gervais' "Molly". Bringing in the weed-toting Wiz Khalifa and newcomer Mally Mall to drop a couple bars about big bank accounts and love for MDMA, this addictive banger may just be as big of a hit in the clubs and radios as Tyga's "Do My Dance". Personally I am not the biggest of Tyga's fans but recently he really has been putting out some club/chart worthy singles . I think he has found his lane in mainstream but I just hope that lyrically he keeps improving. Both singles can be heard on the young emcee's upcoming album Hotel California, dropping March 26th.
[soundcloud url="http://api.soundcloud.com/tracks/76824558" params="" width=" 100%" height="166" iframe="true" /]
Facebook
Google+