In philosophy, systems theory, science, and art, emergence occurs when an entity is observed to have properties its parts do not have on their own. These properties or behaviors emerge only when the parts interact in a wider whole. For example, smooth forward motion emerges when a bicycle and its rider interoperate, but neither part can produce the behavior on their own.
Emergence plays a central role in theories of complex systems. For instance, the phenomenon of life as studied in biology is an emergent property of chemistry, and psychological phenomena emerge from the neurobiological phenomena of living things.
When police chief, Jo Evans, of Long Island's Peconic Bay takes in a young child (Alexa Swinton) whom she finds near the site of a mysterious accident, she soon discovers the girl has no memory of what has happened or who she is. Piper's mystery becomes more intense than expected when Evans starts investigating the history that led up to the accident and the questions of how and why it happened. A series of bizarre electronic disruptions, unexplained forces and a strange cryptic symbol are also at play, all of which are related to the girl she now calls Piper.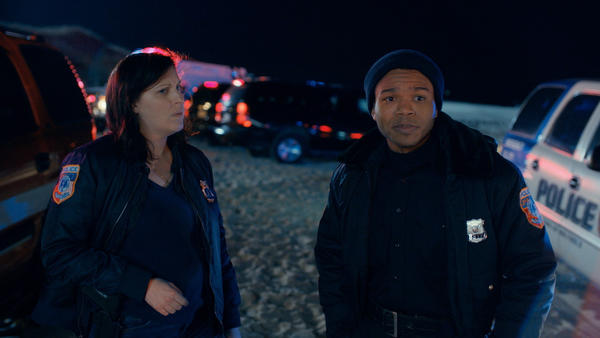 With just two episodes, ABC's Emergence is a fresh original story that has more questions than answers; but this will not be the case for long. Unlike other shows that'll drag its unsolved mysteries through an entire season, episode three of Emergence (which is airing tonight) will answer its most talked about mystery: who is Piper?
Emergence is more than "could this be a government experiment?" at the root of the show is Jo's family; her daughter Mia, her father Ed, and ex-husband Alex, all of whom get tangled up in the events surrounding Piper. Within two episodes I started to care for everyone involved as I watched strangers (Piper, Mia and Jo) slowly start to have a genuine care for this child and vise versa.
At NYCC, The Koalition spoke with actors Owain Yeoman (Benny Gallagher, an investigative journalist who works for Reuters helping to uncover the mystery) and Robert Bailey Jr. (Chris Minetto, a police officer under Jo) about their hit TV show.
Emergence airs Tuesdays 10/9 Central on ABC.
Check out the interview below.