PlayStation is at it again with more games to feature and tons of information for us to know. This week, PlayStation features Dragon Age: Inquisition, and shows us October's top sellers in games and add-ons!
Check out Dragon Age and the charts below for your viewing and info needs!
Featured Game
Dragon Age: Inquisition is Great for Newcomers
Dragon Age: Inquisition, the latest chapter in BioWare's sweeping fantasy saga, wastes no time beginning its urgent, world-splitting story. Truth be told, the developers have sewn a great amount of detail onto the main menu alone. Starting a new game catapults the idyllic scene of a snowy peace summit into utter devastation. And that's just the menu.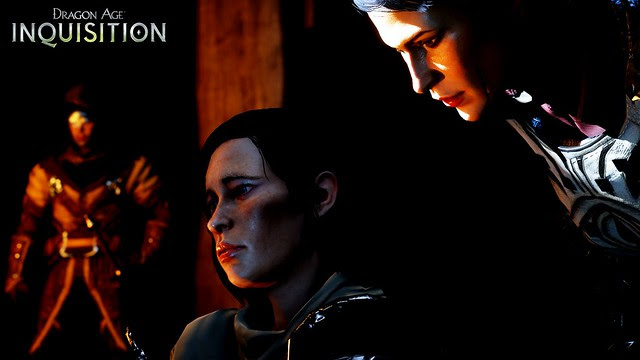 For those who have followed previous chapters of Dragon Age, the story is dense and rich with lore. But when a seething, green portal opens in our world and welcomes in legions of demons, players have a straightforward cause to rally behind.
In Dragon Age: Inquisition, players follow the story of a survivor that emerges from this demonic blast (almost) unscathed. The site of the explosion had been host to a peace summit organized by Divine Justinia, who sought an end to the strife between mages and Templars. With those plans wholly awry, the main character (the Inquisitor), is tasked with upholding Justinia's legacy and hunting down the demonic agents haunting the realm.
Despite the gravity of the situation and the massive cast of characters, Inquisition outlines clear goals and motives for all. It helps newcomers acclimate to the world, and learn about the warring powers over time. A thick codex also documents characters, locations, and legends for those who want to dive deeper into the lore of the Dragon Age universe.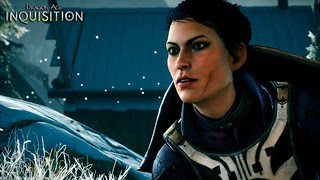 In true BioWare form, Inquisition's branching dialogue system lets players choose whether they want to wander into enriching conversations or cut the chatter short and get back to the action. How the player handles these situations will define not only the main character, but also that character's relationship to his or her followers.
Battles in Inquisition place players in control of one character at a time. But they can switch to any hero in the party at will, issuing commands via a strategic, top-down view, and managing as much or as little as needed. Hit the touch pad, for example, and survey the surrounding terrain to organize attacks, assign spells, and send in melee heroes to begin the assault. Or command followers to stay behind while the Inquisitor stealthily approaches the opposition and takes down any unfortunate stragglers.
This system instills a tremendous amount of choice in players, outside of selecting the sex, race, and class of the hero. Organizing party strategies and then defeating foes on the field can involve moment-to-moment decision making, or a more casual approach for the less patient. Difficulty can be adjusted dynamically to accommodate more demanding players.
Inquisition ties three followers to the main hero in less than an hour, giving players control of a full party before the world has even opened up with its packed docket of quests. Strolling through wintery peaks and forests will quickly introduce players to villagers that need help, have requests, or are just victims of the wars raging throughout the realm. These quests can be undertaken or ignored at a player's leisure, which again, highlights player choice and the freedom for newcomers to skim the shallows or dive deep into the content offered.
Outside of questing, one of the most enthralling aspects of Inquisition is just that: the Inquisition. Building an army, equipping it, and customizing strongholds showers players with options, breathing a sense of ownership into the conflict that makes every battle more personal. And when that customization extends from the hero herself to the whole damn Inquisition, players will feel a real connection with the struggle of Dragon Age: Inquisition, newcomers and veterans alike.
Dragon Age: Inquisition launches on November 18th for PS4 and PS3.
---
PlayStation Store's Top Sellers: October 2014
It's top sellers time! Let's see who ruled the PlayStation Store charts last month:
Middle-earth: Shadow of Mordor led the charge on PS4 (and word on the street is it was well-deserved), with NBA 2K15 and Minecraft nipping at its heels. Slender: The Arrival and Borderlands: The Pre-Sequel came in just behind the mighty Minecraft on PS3, and Freedom Wars made an extra-strong debut on Vita, especially considering it only had a few days to catch up after launching on 10/28. As always, head over to the European PS.Blog to see how these games stacked up over there.
November's looking pretty huge for game releases… who's gonna come out on top?
PS4 Games

1

Middle-Earth: Shadow of Mordor Legion Edition

2

NBA 2K15

3

Minecraft: PlayStation 4 Edition

4

THE EVIL WITHIN

5

DRIVECLUB

6

The Legend of Korra

7

Destiny

8

Outlast

9

FIFA 15

10

Alien Isolation

11

Plants vs. Zombies Garden Warfare

12

Lords of the Fallen

13

Madden NFL 15

14

inFAMOUS First Light

15

The Last Of Us Remastered

16

Peggle 2

17

METAL GEAR SOLID V: GROUND ZEROES

18

Nidhogg

19

Diablo III: Reaper of Souls – Ultimate Evil Edition

20

Surgeon Simulator: A&E Anniversary Edition
PS3 Games

1

Minecraft: PlayStation 3 Edition

2

Slender: The Arrival

3

Borderlands: The Pre-Sequel

4

Destiny

5

Mirror's Edge

6

Portal 2

7

FIFA 15

8

NBA 2K15

9

Mortal Kombat Arcade Kollection

10

The Legend of Korra

11

Plants vs. Zombies Garden Warfare

12

Grand Theft Auto V

13

The Evil Within

14

Bayonetta

15

Dead Space 2

16

Resident Evil Code: Veronica X

17

Diablo III: Reaper of Souls – Ultimate Evil Edition

18

Madden NFL 15

19

METAL GEAR SOLID V: GROUND ZEROES

20

Beyond Good & Evil HD
PS4 Add-ons

1

Destiny Expansion Pass

2

Middle-earth: Shadow of Mordor Season Pass

3

Call of Duty: Ghosts – Nemesis

4

Battlefield 4 Premium

5

The Evil Within Season Pass

6

DRIVECLUB – SEASON PASS

7

Watch Dogs Bad Blood

8

Outlast Whistleblower

9

Zen Pinball 2 – The Walking Dead

10

Battlefield 4 Dragon's Teeth
PS3 Add-ons

1

Dark Souls II Crown of the Ivory King

2

Call of Duty: Black Ops II Vengeance

3

Call of Duty: Black Ops II Apocalypse

4

CoD: Black Ops II Nuketown Zombies Map

5

Call of Duty: Black Ops II – Revolution

6

Call of Duty: Black Ops II Uprising

7

Persona 4 Arena Ultimax: Margaret

8

Call of Duty: Ghosts – Nemesis

9

Dark Souls II Crown of the Old Iron King

10

NARUTO SHIPPUDEN: UNSR Suit Pack
PS Vita Games

1

Minecraft: PlayStation Vita Edition

2

Freedom Wars

3

Sword Art Online -Hollow Fragment-

4

Hatsune Miku: Project DIVA f

5

SENRAN KAGURA Shinovi Versus

6

Dead Nation PS Vita

7

Dragon Ball Z: Battle of Z

8

Nidhogg

9

Don't Starve: Giant Edition

10

METAL GEAR SOLID: HD COLLECTION
PS Classics

1

Grand Theft Auto: San Andreas

2

Resident Evil 3: Nemesis (PS3/PSP/PS Vita)

3

Castlevania: SotN (PS3/PSP/PS Vita)

4

Grand Theft Auto: Vice City

5

Silent Hill (PS3/PSP)

6

Metal Gear Solid (PS3/PSP)

7

Fatal Frame III: The Tormented

8

Mega Man X5 (PS3/PSP/PS Vita)

9

Vib-Ribbon (PSOne Classic)

10

Suikoden (PS3/PSP)
---
Terraria Comes to PS4 Tuesday: Bigger World, New Items, Cross-Play
505 Games is excited to be bringing the world of Terraria to PS4. It wasn't necessary to tinker with the core mechanics of the game, which have underpinned its success to date, but 505 Games has definitely been able to take this console version to the next level and implement some fantastic new features in the process. It looks amazing running in HD on PS4 too!
The first thing to talk about is the scale of the PS4 version, which is almost triple the size of the original PS3 game. A truly huge amount of content and features have been added, with well over 1,000 new items including 10 new ores, 4 new wood types, 31 new brick types, 12 new wing types, 29 new tinker combinations, 50 new paintings, 8 new friendly NPCs, 15 new pets, over 100 new enemies, 4 new bosses … the list goes on, and on!
505 Games also listened to feedback from the community and looked at how people play the original console games to figure out where slight improvements might be made. The company wanted to address the immense scale of Terraria's world, which can actually be a blessing and a curse! Now players will be able to 'pinch' to zoom in and out on DualShock 4′s touch pad, which is really simple and intuitive but makes a huge and immediate difference when playing the game.
505 Games is also working hard on a World Map companion app for mobile and tablet devices, which you'll be able to download for free to see where you are in the PS4 game in real-time, and work out what kind of interesting (or scary!) stuff is all around you.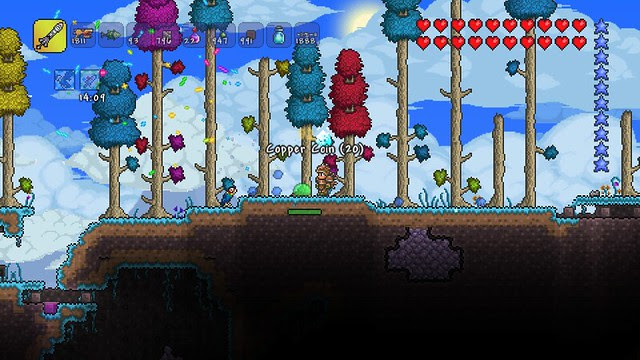 Finally, 505 Games is thrilled that PS4 players will be able to cross-play with the PS3 and PS Vita versions of the game, whether you want to transfer your save games or enjoy cross-platform multiplayer; joining up to fight bosses together, building added-awesome castles, or duelling each other in PvP combat! To celebrate this feature and the launch of Terraria on PS4 we're even bundling the PS Vita version for a limited time, so you'll get the Vita version for free when you buy the game on PS4!
The PS4 version of Terraria really is the ultimate console version of the game that's beloved by millions of Terrarians already!
There you have it! PlayStation is always showing us what's up in the world of gaming as they continue to bring tons of titles are way to enjoy!
What do you guys think about the ranking of Oct. top sellers? Is there a game you feel show be at the top instead of the current titles? Let us know in the comments below!
Don't miss out!