Hello Gamers,
Here is this week's updates, features and games from PlayStation. One of the huge things about this is the Masamune update that will now allow gamers to customize themes and colors to their dashboard on the PS4! Now your PS4 can really feel like it's made for you!
This list below is as follows:
Major PS4 System Software Update v2.0 AvailableTomorrow
PS4's system software v2.00, codenamed Masamune, is making its arrival tomorrow and they can't wait for you to check out all the new enhancements it'll bring to your PS4. This update adds unique, forward-looking features like Share Play, and addresses some of the most highly requested features from the community including YouTube integration, USB music player, ability to find players you may know, sorting options for PS4′s game library, and themes that change the look of your home screen. This is the biggest update they've delivered to date for PS4.
For a look at what you can expect, check out our walk-through video on key Masamune features. And don't forget to watch the walk-through video of the SharePlay feature below.
Here's a recap of some top features you can expect with Masamune in list form:
Share Play: PlayStation 4 will create an online local co-op experience by allowing you to invite a friend to join your game — even when they don't own a copy of it. PlayStation Plus membership is required for certain Share Play features.
YouTube: Upload your gameplay highlights directly from PS4 to YouTube by clicking the "SHARE" button on DualShock 4. In addition, a YouTube app for PS4 will be available to download from the PlayStation Store.
Themes & Colors: Personalize your home screen background with select themes and colors. As a big thank-you to the PlayStation Nation, we want to kick-start your dynamic theme options by giving away a theme for two of the biggest titles gamers will be playing on PlayStation 4 this fall; Destiny and Call of Duty: Advanced Warfare. Both themes will be available for download on Tuesday.
Live Broadcasting Enhancements: Search filters, archived broadcast support and more have been added to Live from PlayStation
Content Area & Library: Find and access your content quicker with a redesigned Content Area and improved filter and sort functions for the PS4 Library.
USB Music Player

*

: Insert USB memory with music in your PS4 and start playing your favorite tunes in the background.
What's New: To make the activity feed more relevant and timely for you, What's New will add Friends of Friends suggestions and Live Broadcasting updates from your friends at the top of your feed.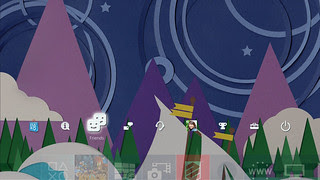 For the full list of features in PS4 system software update (v2.00) and instructions for updating your PS4 system, please visit this page after the update goes live. As a reminder, you can also set your PS4 to download system updates automatically.
PS Vita and PS TV Update
Also available tonight is a new system software update (v3.35) for PS Vita and PS TV, which includes 4-player Remote Play support for PS TV, as well as the Live from PlayStation app, which allows you watch game streams from PS4 on both your PS Vita and PS TV devices. A full features list and instructions for updating PS Vita and PS TV can be found here after the update goes live.
PS App Update
Lastly, don't forget to update your PlayStation App on your mobile devices to the latest version. The new 2.0 update will include a redesigned home screen, and a new layout for tablets.
This has been an amazing first year for PS4 so far, with more than 10 million units sold and a robust set of new features already added including SHAREfactory, automatic pre-download, and more. PlayStation pleased to see the great feedback they've been getting from fans like you, which helps them to make PS4 the best place to play.
*User can play music files stored inside USB storage but cannot copy music files to PS4 HDD. This application cannot be used at the same time with Music Unlimited. USB Music Player will appear once USB storage is inserted, and will disappear once USB storage is removed.
The Drop: New PlayStation Games for 10/28/2014
Goblins, ghouls, ghosts, and gremlins fill the streets. Candy flows like a river of sugar. People willingly terrify themselves. Halloween is creeping around the corner, and what better way to celebrate than with a shambling host of new games coming to PlayStation?
First up, Freedom Wars, coming to PS Vita. In the not-too-distant future, humans are born into incarceration. Fight for your freedom and wield insane weapons against hulking monsters. Team up with other players online, customize your character, and select a city to represent in your fight against imprisonment.
Not spooky enough for you? Not a problem. Costume Quest 2 hits PS4 and PS3 this week. This adorable RPG sequel has tricks and treats in abundance, with new environments to explore and even a Sackboy costume to use!
And if you're just feeling a little overwhelmed by all this Halloween horror, belt out a few of your favorite tunes in SingStar, which launches this week on PS4. And you don't even need a mic, actually. Just download the free SingStar companion app and turn your smart device into a glorious conduit of performance art. Or embarrassing karaoke. Either way.
For a full list of games coming to PlayStation this week, head below. And enjoy Halloween and the Drop!
New PlayStation Games This Week
Demos and Betas
Blood of the Werewolf — PS3 Trial
Deadfall Adventures: Heart of Atlantis — PS3 Trial
There you have it guys. Make sure to check these games out and get ready for the Masamune update! I'm sure everyone has been waiting awhile for an update like this!
Don't miss out!