Anthill: Tactical Trail Defense is another fun line-drawing game for iOS that adds a touch of RTS to the mix. The concept of creating a game like this based on Ants is very warm and inviting and reminds me of light hearted films such as Antz and A Bugs Life. The main objective in Anthill is to command four different types of ants (Workers, Soldiers, Spitters and Bombers) to maintain the Anthill. This means defending the Anthill from bugs threats, and securing food and resources.
In each level you will have Soldiers sent out to clear the field from various threats, and workers are sent to clear up the mess and bring back any food and resources they can. Food that you bring home will allow you to spawn even more troops and further build up your defense force. For those moments when things get more frantic, you have your Bombers which work by touch targeting; along with your Spitters that move along the lines spitting out ant goo.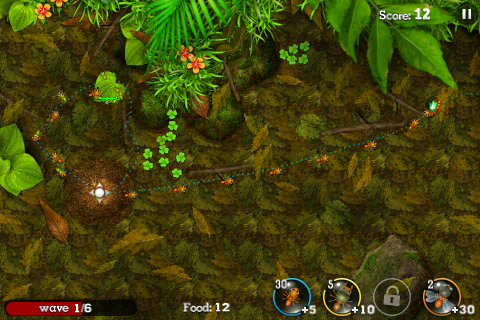 Levels are presented as a number of different waves, that get progressively difficult. I wouldn't say Anthill is overly challenging, as it does seem like it's more of a game for casuals; but it is easy to get hooked. I found myself getting more and more determined to run through each stage. At the end of a stage you can spend stars that you've earned on upgrades for each of your ant types, if you really want to you can also use real money to pay for extra stars.
Anthill has a really inviting top down art style, and the music score fits the overall feel of the game perfectly. The jungle like sound effects make it feel very authentic and when I played I couldn't help but think about the similarities between this game and the previous ant based movies I mentioned before.
Overall I would say that Anthill is a very fun but short lived experience. It's one of those mobile games that you can't help but get addicted to initially, but after a while the fun wares off and you'll likely be looking for a replacement. Also note that developer Image & Form released an update that adds Infinity mode which is essentially a survival mode that can go on for as long as your endurance lasts. It's an added bonus that brings even more to the games value. For the current price of £0.69 in the UK and $0.99 in the US you cannot go wrong with Anthill.
This review was based on a retail download copy of the game for the iPhone provided by Image and Form International AB.