A few months ago, I reviewed the PS3 version of FIFA 14 for this site and I wasn't impressed. I did cling onto some hope that EA Sports were just focused on the next-gen PS4 version, which would be the better, more refined and polished title.
After a week of playing FIFA 14 on the PS4, I now want my money back. Here are 14 reasons why I should be refunded for my copy.
1. 
Removal Of Head To Head Games
The PS3 version of FIFA 14 had the usual online game modes including the unranked and ranked "Head To Head" games. This mode didn't require any long-term commitment like Seasons does. You can play as many matches as you want without any consequences other than gaining online XP.
On the PS4, there was a change.
They got rid of one of the most used online modes! There is no Head To Head mode at all.
The following post is from SteveyPB on EA's FIFA 14 forum:
Which leads me to my next reason…
2.
Removal Of Tournament Mode
The removals keep coming.
EA also got rid of the Tournament Mode!
Once again, the mode was there in full on the PS3 version. However, the PS4 version – nowhere to be seen.
This was a good mode to have handy when you have a few friends over for a drink and a game of FIFA. You could either set up a cup tournament or a mini-league for the night. This mode was especially handy after EA got rid of the Lounge Mode a few years ago.
Interestingly enough, EA made a statement regarding this matter:
"Each time we develop a new FIFA game, we spend a lot of time reviewing and evaluating features based on popularity, real world trends, and our development resources. For the new generation of FIFA 14 on Xbox One and PS4, we decided not to include Tournament Mode, which accounted for a very small percentage of games played in FIFA 13, in order to focus on the most important areas and modes in the game. We took those resources and budget, and focused on many other new areas of the game, including Living Worlds and Stadiums, Career Mode, and expanded Online Seasons. As always, we will continue to listen to fan feedback to determine the features we include in future versions of the game. Thanks for your consistent feedback on Twitter, Facebook, and the forums."
So, we are supposed to believe that a Tournament mode made them lose their focus on other modes? The shit is copy and pasted every year, and rightly so! The mode is as basic as they come! Can it not be released on the obligatory and sadly typical day-one patch? Are we also supposed to believe that they can truly measure the usage of an offline mode?!
We are now reduced to just the basic "Kick-off" mode with the only way to keep record is via pen and paper!
Instead of adding features and modes, they are removing them.
3.
Glitches
Yes, I am aware – every game has them.
However, I would like EA to try and explain this video (recorded the old fashioned way):
That incident happened after my game crashed during the Career Mode game. I restarted my console and retried, then that incident happens.
After those two substitutes thought they would have a seat in mid-air, in the middle of the pitch – I scored. The game subsequently crashed AGAIN for the second time in a row.
I don't know whether I should laugh or cry at this sight from EA's forums:
FIFTY-EIGHT pages for a bug report thread!
FIFA has a history of these glitches. As recent as last year's FIFA, in Career Mode, the ball became invisible. Yes – an invisible ball.
4. 
Online Squad File Error
After trying to start a match in Seasons Mode, I received the following message:
"We have detected your squad file does not match that of your opponent, and have cancelled the match to prevent unfair play. Should your squad be corrupted or tampered with, you will need to delete your Online Squad file and re-download."
It turns out that I am not the only one suffering from this annoying fuck-up:
It is bad enough as it is, having your online options reduced, but having the-now current main online mode almost unplayable because of an error on this level, is quite shocking.
As of writing this piece, there is still no fix.
5.
Random Shot By CPU
This one could be put under the glitches category. However, it is so horrendous and frequent that it merits it's own segment.
With this glitch, I have to have possession within my opponents half for it to happen.
Here is my most recent incident involving this glitch: I am Bayern Munich against PSG on the online Seasons Mode. PSG's defence are keeping a high line. Arjen Robben collects the ball out on the right-wing. He runs past PSG's left-back Maxwell and I now have about 30-35 yards worth of space to run into, hoping to initiate a one-on-one with the goalkeeper.
What does Robben do? As soon as he goes past Maxwell, he blasts the ball into the crowd from 30-35 yards of course! I never pressed a single button. I was only holding R2 and the left analogue stick towards the goal. I had ZERO intention of shooting that early.
This is a rather frequent occurrence. In fact, it is almost every other match! Once again, like they have with previous titles, it looks like EA didn't bother their backsides testing this game.
6.
Overpowered Headers
Just like my review for the PS3 version mentions, the headers are ridiculous.
Small players are beating giants to the ball and headers are being scored from the edge of the box. Corners are almost a gimme for a goal.
nick050183 on YouTube has delved into this in great detail:
Although he is analysing the PS3 version, these same problems persist in the PS4 version.
7.
Dumb Goalkeepers
That video is the tip of the iceberg.
I have had goalkeepers come out at corner kicks and punch the ball into their own net!
Typically, they are almost invincible when it comes to one-on-one's with strikers.
8.
Players Not Reacting To Passes
This is one that has creeped into this year's edition of FIFA.
As recent as my last match before writing this editorial, I have had players refuse to take possession of the ball that has been perfectly passed to them. They just let the ball run past them or through their legs, whilst they gawk at the ball!
Throw-ins are a nightmare too (this includes the PS3 version). I have lost count at the amount of times my player throws the ball to a team-mate, only for the team-mate to run underneath the ball while it's in mid-air. Therefore the ball is unintentionally thrown past him, over his head, for an opposing player to steal possession.
This serves as a nice segway…
9.
Flawed Game-play
FIFA has had it's fair share of flaws which players have exposed throughout the years. From the early 2000's games allowing you to score free-kicks from the half-way line (Roberto Carlos anyone?) to the late 2000's making it piss-easy to score chipped shots.
FIFA 14 is no exception.
The new animation for quick throw-ins completely contradicts itself. Ball boys throw the ball agonisingly short, therefore we have to watch the player stand and stare at the ball…..then he realises he has to go get it himself….THEN he runs to get it. Sometimes a second ball has been thrown onto the pitch for a throw-in. So another player will run to the spare ball….stand there….then gently nudge it off the park at an excruciating pace.
Through balls – just hold in the triangle button and you'll be sorted. Players are completely bamboozled if a ball is passed via the triangle button.
Chipped through balls – defences are just sucked forward when a chipped through ball is executed towards them.
The flaws are there to be exposed and that's exactly what the FIFA online community is doing.
10.
A Million Offsides Per Game
This reason relates back to the previous one.
Each match is plagued with offsides. This is usually caused by a combination of a few things – the slow players, the chipped through ball and the defences being sucked forward from the pass.
This results in matches being very stop-start for the majority of the time.
That's if the referee even gets the offside decision correct in the first place…
11.
Poor Referees
Usually, referees have been very good in past FIFA games.
I have noticed in this year's edition that referees' standards have slipped. There has been numerous times I have either been wrongly awarded a penalty or wrongly penalised for one too. Other players have tackled me fair and square, clearly winning the ball and the referee gifts me a penalty.
12.
Selecting Players
Player selection has become troublesome.
On numerous occasions, I have played a basic pass to a player, who stands and stares at the ball, whilst another team-mate 10 yards away sprints back to receive the pass. The originally-intended receiver of the ball is locked, I cannot move them to try and receive the ball.
Another excruciating example is crosses into the box, quite clearly intended for the player standing in the six yard box, but he is locked; cannot be selected and lets it fly past him for another player in a worse-off position.
13.
EA's Disdain For Their Customers
After suffering from all these problems, I visited the EA forums to see if I was suffering alone. After 15 seconds of reading numerous thread titles, I realised I wasn't. After reading a few threads, I came across a rather shocking post: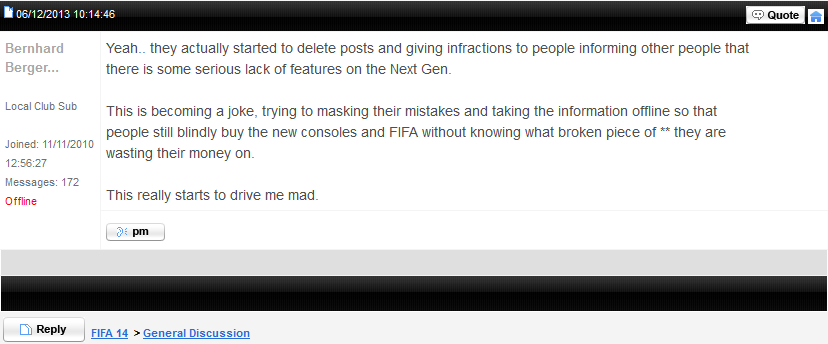 After reading their BS statement about the removal of the Tournament Mode, and the revelation/accusation of alleged deletion posts which contain warnings from other players about the game's huge list of faults, I can't help but feel resentment for EA.
At least they were nice enough to create a feedback form!
14.
Team Ratings
Why did Rangers (who are currently on a 19-game win streak) get a worse rating than last year, after winning SFL3 by 24 points and after signing even better players during the Summer?! 2.5 stars to 1.5 stars.
Instead of accurately rating players individually, they are basing their player ratings on the overall team rating they have in mind!
One last thing – how is England still a five-star team?!
After checking ShopTo.net's returns policy, sadly I cannot get a refund under their terms:
"We do not accept returns for non-faulty unwanted items in any circumstance if they have been opened/unsealed."
In my opinion, retailers such as GAME and ShopTo.net etc should have policies in place which allow gamers to return their games if they are deemed faulty. Not THEIR definition of 'faulty' i.e. scratched disc or some physical damage but my definition of 'faulty': a game which is broken in so many ways that it makes me regret the purchase in the first place. The main problem with that would be having to prove it when you request the refund.
Where is the quality control? Where is the testing? I am sick of basically being a full-price paying BETA tester and I am gutted that I spent money on FIFA 14, instead of another game that I would get more enjoyment from. After all, that's what gaming is about – fun. I am certainly not having any of that with FIFA 14.
Credit for main video goes to MrVimtoJoe.