/

// November 13, 2017 | EPISODE 200
Below are the news stories that may not have made the headlines today but are worth reading!
Gamers never die…..
Just like the Games of Our Lives…
/// GAMES FEATURED
/// Tekken 7 Adds DLC Character Noctis from Final Fantasy XV in Spring 2018!
/// New Valkyria Project to be Announced on November 20, Worlwide Release Planned!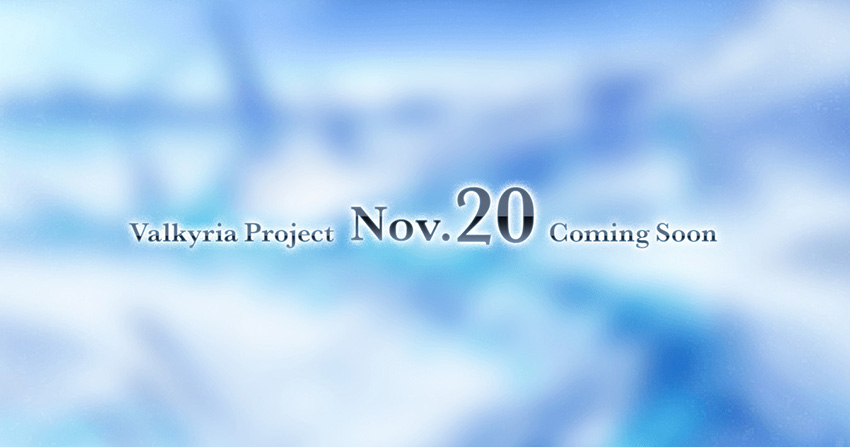 Top of Page
/// Users Without PS Plus Can Play Games Online on Their PS4 This Weekend!
PlayStation 4 owners who have don't have a PlayStation Plus membership will be able to play their games online this weekend as part of a PlayStation Plus open multiplayer event.
The free weekend starts on Wednesday November 15 at 10am UK / 5am ET / 2am PT and ends on Monday, November 20 at 10am UK / 5am ET / 2am PT.Top of Page

/// Guillermo del Toro to Get A Look at Death Stranding in the 'Next Couple of Weeks'!
Filmmaker Guillermo del Toro is working with Hideo Kojima on Death Stranding and revealed that he will be getting a look at the game within a couple of week.
"It's been great as a friendship, and it's been great as a learning experience," said del Toro in an interview with IGN. "In Death Stranding I'm just a puppet. I don't know what he's gonna make me do. He's supposedly going to show me the gameplay at some point in the next couple of weeks.
"My most rewarding experience was to know him and help him realize P.T., which never happened on Silent Hills."
Top of Page
 

SECOND HALF
/// Call of Duty: WWII Remains Atop the UK Charts, 3 Titles Debut in Top 10!
Need for Speed: Payback debuts in fourth place, which is one place lower than the last entry in the series in 2015. Sonic Forces debuted in fifth, while Football Manager 2018 debuted in 10th.
Here are the top 10 best-selling titles (combined sales) for the week:
Call of Duty: WWII
FIFA 18
Assassin's Creed: Origins
Need for Speed: Payback
Sonic Forces
Super Mario Odyssey
Forza Motorsport 7
Forza Horizon 3
Gran Turismo: Sport
Football Manager 2018
Top of Page

/// Mario Party: The Top 100 Release Date Moved Forward in Europe to December 22!
Nintendo has moved forward the release date for Mario Party: The Top 100 from January 5, 2018 to December 22.
Here is an overview of the game:
The fun comes faster than ever with this collection of the top 100 minigames from all ten Mario Party series console games. Test your memory, speed, and luck in a variety of multiplayer minigame types. Thanks to the Nintendo 3DS family systems' Download Play feature, up to four players can join the party on their own game system with just one game card!
Key Features:
Speed things up with simple minigame instructions and a Favorites options for quick selection. You can even set the number of turns for board-game play!
Play 100 different minigames—the largest number of minigames in a single Mario Party series game.
Invite friends to join the party via local wireless or Download Play*, which lets up to four people play on their own systems with just one game card.
Mario Party: The Top 100 is currently available in North America and will launch in Japan on December 28.
Top of Page

/// EA announces hero unlock pricing changes for Battlefront 2, lowered 75%!
Change will be a Constant in Star Wars Battlefront II
Since the start of the project, listening to fans has been important in making sure Star Wars™ Battlefront™ II is the very best experience for all of you. We've done this with the closed alpha, through the beta last month, and our Play First Trial. And we continue to make adjustments based on your feedback as the game launches worldwide this week. Listening, and providing choices in how you play, will always be our principle with Star Wars Battlefront II. We want to ensure the game is balanced and fun both today and for years into the future.
Making games great comes from regular tuning. As one example, today we're making a substantial change based on what we've seen during the Play First trial. There's been a lot of discussion around the amount of in-game credits (and time) it takes to unlock some of our heroes, especially Luke Skywalker and Darth Vader. Unlocking a hero is a great accomplishment in the game, something we want players to have fun earning. We used data from the beta to help set those levels, but it's clear that more changes were needed.
So, we're reducing the amount of credits needed to unlock the top heroes by 75%. Luke Skywalker and Darth Vader will now be available for 15,000 credits; Emperor Palpatine, Chewbacca, and Leia Organa for 10,000 credits; and Iden at 5,000 credits. Based on what we've seen in the trial, this amount will make earning these heroes an achievement, but one that will be accessible for all players.
It's a big change, and it's one we can make quickly. It will be live today, with an update that is getting loaded into the game.
We've also been listening to how much you're loving features in the game (Starfighter Assault, 40 player MP battles, Darth Maul lightsaber throws, etc.) as well as what you haven't liked. We know some of our most passionate fans, including those in our subreddit, have voiced their opinions, and we hear you. We're making the changes to the credit levels for unlocking heroes and we're going to keep making changes to improve the game experience over time. We welcome the conversation.
In fact, this Wednesday we'd like you to join us for a Reddit AMA with some of the key leads on our team. Stay tuned to our social channels for more info on the AMA, and our blog for continual updates on what we're seeing, hearing and adjusting in the game.
For those of you already playing, thank you. For those of you looking forward to playing the Star Wars™ game you've been waiting for, thank you, too. The team is fully committed to listening to our community, continually adjusting the game, and providing even more great Star Wars content over the upcoming months and years of live service updates. More to come.
[Source]
Top of Page

/// Wolfenstein 2: The New Colossus gets release dates for Freedom Chronicles DLC!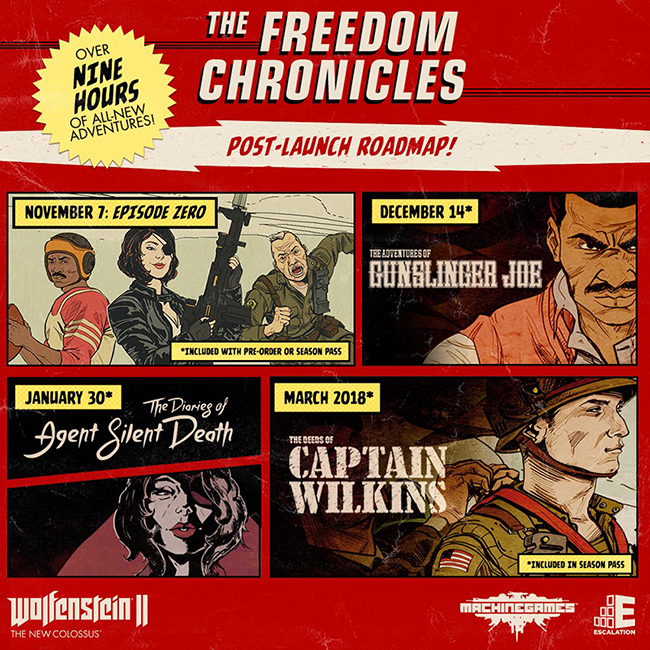 BJ Blazkowicz might be a nigh-unstoppable Nazi-killing machine, but it takes more than one man to make a revolution. That's where The Freedom Chronicles comes in. Starring three different heroes, this multipart DLC will give players a chance make America Nazi-free again – but from a trio of fresh perspectives. Available as individual DLC packs or all together in the Season Pass, The Freedom Chronicles includes:
Episode Zero
Included with pre-order or Season Pass. Available now
Episode Zero introduces you to Joseph Stallion, Jessica Valiant and Gerald Wilkins as they fight for freedom in the American Territories. Blast your way through Nazis using unique abilities and an arsenal of guns in this opening DLC mission.
The Adventures of Gunslinger Joe
December 14
As former professional quarterback Joseph Stallion, smash through Nazi hordes from the ruins of Chicago to the vastness of space!
The Diaries of Agent Silent Death
January 30
As ex-OSS agent and assassin Jessica Valiant, infiltrate Nazi bunkers in California and discover the secrets of Operation San Andreas!
The Amazing Deeds of Captain Wilkins
March 2018
As the US Army's renowned hero Captain Gerald Wilkins, embark on a mission to Nazi-controlled Alaska to dismantle Operation Black Sun!
The Freedom Chronicles Season Pass is available now, for $24.99 (US) / £17.99 (UK) / $34.95 (AUS). The three DLC packs can also be purchased separately.
/// Hitman TV Series from the Creator of John Wick in the Works!
Deadline Hollywood Hulu is hoping that Hitman will become one of their flagship series for the service, and it's quite possible considering the line-up working on the series! Kolstead will be one of the executive producers, along with Adrian Askarieh and Chuck Gordon. Since the project is being looked over with both Fox 21 and Hulu, we'll have Bert Salke, Jane Francis, Gloria Fan and Kira Innes with Fox 21 and Jordan Helman with Hulu also working on Hitman.
Hitman recently got a new game, and IO Interactive did a gerat job! Read up on out Hitman review:
Hitman shines in giving the player numerous choices when the time comes to deal out death. Perhaps describing what happened to me simply in the game's prologue will suffice. One of the game's first training missions asked me to infiltrate a yacht during a party, and kill a target. In front of my spawn location was a crate, upon which sat several items. I picked them all up — some remote explosives, a few coins, etc. About 50 feet ahead of me, a gentleman looking rather dapper in a light-colored business suit was waiting in front of the main ramp to get aboard the yacht. I was previously informed that this was the man who was supposed to meet my target. So, the thought occurred that I should take this man's outfit, and attempt to pass as him so that I could get up close and personal with the target. My unrealistic solution? Place my remote explosives behind him, and detonate them once I'm safely off in the distance and away from prying eyes. Then, I thought, I'll just come back to the scene of the crime, steal the now dead man's suit, and walk right into the yacht, hidden in plain sight.
[Source]
/// You've Now Reached the End of Games of Our Lives