Kadir Nelson is an artist that will captivate your soul, leave you in a world of majestic beauty and will have you talking about his work for years to come. He is more than an artist. His work can freeze a time and have emotions pour through a canvass.
You may not know Kadir Nelson by name, but you know his work. Whether it's on the cover of The New Yorker, on the walls of local galleries and museums; Nelson has done it all. And that's just the beginning.
So it would make sense to have the one of the most respected artists pair up with one of the most successful and socially conscious shows pair up to…spill the tea.
Nelson's latest masterpiece pays tribute to the seventh season of the ABC family comedy black-ish in only most side-eye way; through the power of the tea.
Premiering October 21st, outside of billboard placements around L.A. (such as Hollywood and Highland, Sunset Boulevard and West 3rd Street), what makes this even more a momentous occasion, is the pure shade of it all (which we know and love) as the Johnsons are a strong successful black family who minds their business, listening to gossip — but refusing to incorporating any negativity into it.
The Koalition spoke to Nelson about the significance of his piece and finding power in his art. 
As the world grows more bizarre by the day with escalating social unrest and discrimination, dramatic domestic and international politics, failing financial markets, COVID, and everything else that has fallen into our laps in 2020, the fictional Johnson family from the hit television sitcom, Black-ish, takes a break from the 2020 roller coaster for a socially distanced "quarantine bubble" tea party.
"Black-ish Tea" by celebrated artist Kadir Nelson offers visual commentary on the current state of the world and the oft-time uncomfortable spaces that African Americans have historically occupied in America.
"Historically, African Americans have always had to deal with the disposition of being black in America and yet, find a way to exist within an often times tense space. The keyart painting I created, "Black-ish Tea", speaks to this double-consciousness. I think this very peculiar moment in history where the world has been turned upside-down gives the fictional Johnson family and the rest of the country a moment to reflect on both the seriousness and satire of our current experience."
"The show addresses a lot of experiences and issues that we deal with as Americans and African-Americans, as people in the world, so it's a great opportunity. It had a significant run and I think it's only getting better. I thought it was a great idea to create artwork to serve as the key art for the new season. It's a way of solidifying this show and make it a classic and what better way to do that then to create a classic oil painting."
"It was a very short timetable, I got the word not long before it was time to setup photo shoots with the actors and I had to figure out what are they going to be doing in this painting. The day before, I had the idea of what the painting would be. I looked at a lot of key art from the previous seasons and they developed a very specific visual language."
Most of the cast was wearing dark clothes and it was accented with bright colors, primary and secondary colors. I thought I'll continue with this visual language and I'll try to do a little bit of research. 'What would the Johnson family be doing during quarantine?' There are nine people in his household and I'm sure it was a real juggling act.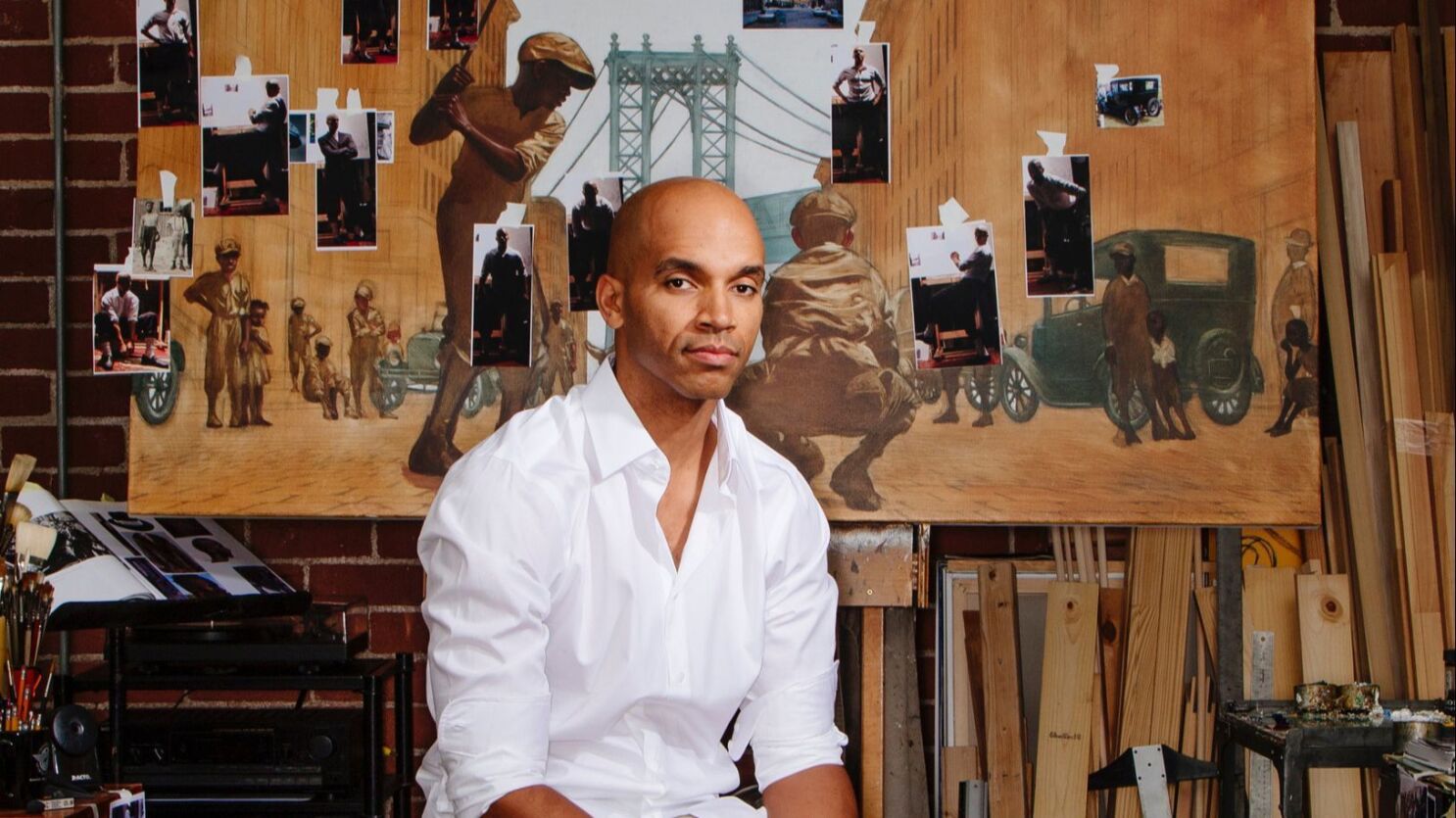 So I found a list of popular family activities people would be doing during COVID and on this list was a tea party and it reminded me of a popular social meme where people are saying 'I'm going to mind my business and sip my tea' and I thought this is what the Johnson family will be doing during this rollercoaster of a year; they'll be saying something sassy and then 'well I'm just minding my business and sipping my tea.'
To learn more about Nelson's work, what drives him as an artist and season seven of black-ish, check out our full interview in the video above.