On March 21st, 2022, the world of The Witcher received fantastic news. CD Projekt Red has announced that it's working on a brand-new Witcher game, which will "kick off a new saga for the franchise," and the fanbase is in a frenzy to figure out everything they can about the upcoming franchise, including myself.
While not much has been revealed about this upcoming game, the announcement did confirm that this new game will be "kicking off a new saga for the franchise and a new technology partnership with Epic Games."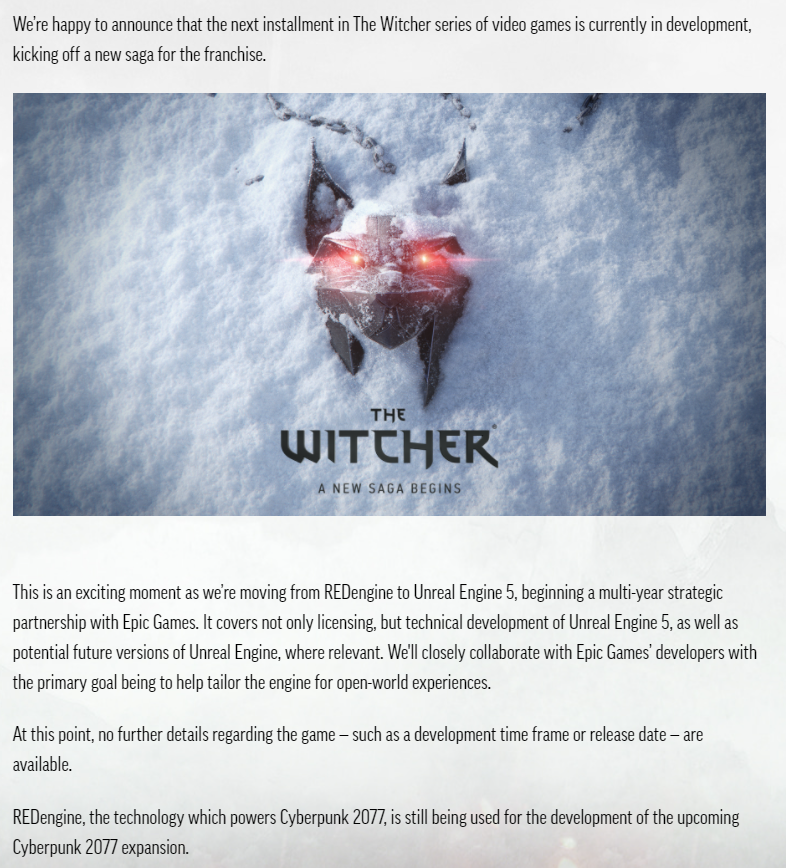 With the inclusion of Epic Games, some of the loyal fans quickly jumped at the possible lack of access to the new series. CD Projekt did state, however, that "we are not planning on making the game exclusive to one storefront" despite working together with Epic. With this combination, the big news here is that the upcoming Witcher game will see CD Projekt Red switch over from its existing in-house REDengine engine — which the company has used for over a decade — to the Unreal Engine 5, as part of a "multi-year strategic partnership" between CDPR and Epic Games.
Beyond that, however, CDPR is making a point to note that "no further details — such as a development time frame or release date" are being provided at this time about the new title. Given the length of development times for CD Projekt Red games, it could be some time before we get more information. If you are a fan of the games that CD Projekt releases you know that they take their time to develop their products. Take the infamously long development period for Cyberpunk 2077, which was first announced in 2012, got a teaser trailer in 2013, and was delayed numerous times until it finally debuted in December 2020. Unfortunately, the release was rife with issues and bugs that CD Projekt Red is still in the process of correcting even after a full year of release.
In 2020, CD Projekt confirmed that it would return to the world of The Witcher after Cyberpunk 2077 is released and that it would not be The Witcher 4, i.e. a continuation of Geralt's story. The team has previously said that Geralt's story was complete, but this new press release neither confirms nor denies that this new direction is still the case.
There was also no word as to whether Geralt of Rivia would star in this new "saga," but the medallion does appear to be of a similar fashion to Geralt's wolf medallion which was just one of those that were given to witcher candidates from the School of the Wolf after they pass the Trial of the Grasses. The medallion is covered in snow, so it could be one from the School of Cat or a new school altogether, but we will have to wait to find out.
I have my own theories that this could be a changing of the guard so to speak, and I am not the only one with this idea. Many fans of the series have speculated that the new Witcher game could be teasing Ciri as the main character because she sports a cat medallion taken from Leon Bonhart, who stated he took it from a Witcher that he dispatched. But CEO Adam Kiciński previously claimed there would be no Witcher 4, implying that whichever games came next would offer some sort of clean break with the characters at the center of the current trilogy. We'll have to wait and see if we finally get Ciri making her own Witcher path.