From 20th Century Studios and visionary filmmaker Ridley Scott comes The Last Duel, a gripping tale of betrayal and vengeance set against the brutality of 14th century France. Based on actual events, the historical epic unravels long-held assumptions about France's last sanctioned duel between Jean de Carrouges and Jacques Le Gris, two friends turned bitter rivals.
When etiquette, social aspirations and justice were driven by the codes of chivalry, the consequences for defying the institutions of the time – the Church, the nobility at court, a teenage king – could be severe. For a woman navigating these violent times, one who had no legal standing without the support of her husband, the stakes were even higher.
Through extensive research involving tracking down, translating and scrutinizing centuries-old historical records – everything from chronicles, legal records and property deeds to military receipts, architectural plans and historical maps The Last Duel, based on Eric Jager's compelling 2004 book, The Last Duel: A True Story of Crime, Scandal, and Trial by Combat in Medieval France, is a true story based on historical source materials about a legendary duel to the death, the last officially recorded trail by combat of its kind.
While original source materials brings the turbulent Middle Ages to life in striking detail, The Last Duel is nothing without the people who help bring a singular vision to light through cinematography, costumes, and its musical score.
Some of France's most majestic and well-preserved castles served as backdrops to this gripping tale, meticulously brought back to their medieval grandeur by a talented team of craftspeople, including: Academy Award-nominated director of photography Dariusz Wolski, Academy Award-winning costume designer Janty Yates and composer Harry Gregson-Williams.
The Kolition spoke to Dariusz, Janty and Harry about their experience working on The Last Duel, how the script changed their perspectives, the importance of a woman's voice and more.

A filmmaker celebrated for his distinct visual flair and cinematic eye, Ridley tapped acclaimed cinematographer Dariusz Wolski, with whom he has worked on five films (beginning with Prometheus in 2012), to man the cameras who revealed some scenes in The Last Duel were shot with six cameras, all filming simultaneously, but every scene was filmed with at least four cameras.
"The first thing [that] drew me into it [is] of course my collaboration with Ridley, it's our seventh movie together. [It was a combination of a] great script, great director, 14th century; you just can't go wrong. I was very excited about doing [it] and also the relevance of the story [is] very important."
For Dariusz, who last year was nominated for an Academy Award for his work on News of the World, one of the biggest challenges on The Last Duel was fabricating natural light for scenes being shot inside the mostly dark and often windowless castles. The castle's moats and 100-foot walls were built to prevent access, which made his job all the more difficult.
"We did not want to make a stylistic huge differences, we just wanted the whole thing to express itself in the story and performances and the new ones in the different versions which comes strictly from the script. The only thing we paid more attention to is to her perspective which is very much into more into her eyes more like her therapy of the world that is very hostile to her."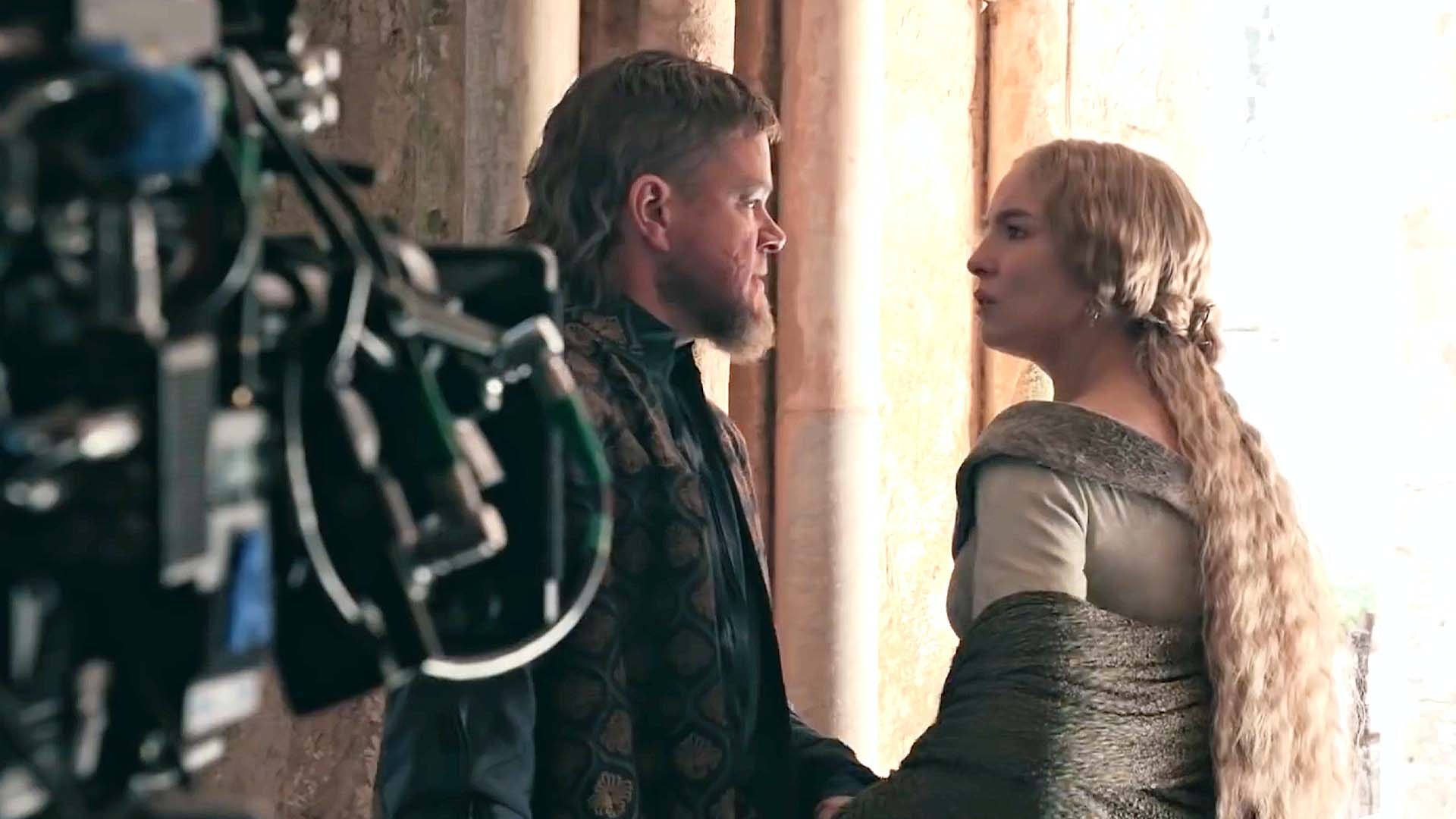 "On location in France we were very limited, we could not put a lot of light on the castle windows so we used existing exposure from outside the windows," Dariusz says. "But we were constrained by relocation, which means we could not put big lights outside the window because there was a huge wall or something similar that prevented it."
The question then became how to balance it inside. "It depends on whether you want to see a silhouette or somebody's face or somebody's eyes," Dariusz explains. "Once we see how the actors' placing plays, and if it plays dramatically, we base our decision on that." When filming moved to Ardmore Soundstages in Ireland, the struggle became how to match the lighting. "We tried to basically limit our resources on the stage and pretend like we were back on location," Dariusz says. "The access is much easier, but you have to restrain yourself."
Janty Yates has worked with Ridley Scott on two films set in the Middle Ages (Kingdom of Heaven, Robin Hood), but this is the first film she has designed where characters are dressed in full armor. Since no complete sets of armor from the 14th century exist, Janty drew inspiration from a medieval style of armor known as Fahnestock, which is on display at the Metropolitan Museum of Art in New York.
The armour, which originated in Italy and was most prevalent in the 1400s, features an upper body that is fabricated from overlapping steel plates combined with chainmail that is then covered with a sleeveless coat embroidered with the combatant's family crest (Jean de Carrouges' family crest is a crimson field with silver fleur-de-lis; Jacques Le Gris' is the reverse). According to Janty, armor is put on in layers. "You start with the basics. You fit them with a shirt, trousers, linen tunic and boots, a leather arming jacket, followed by a hauberk of chainmail and chainmail sleeves and a chainmail skirt," she says. "Then they have either their full armor or their leather jerkins and a cloak, and a leather army cap, chainmail hood, helmet and gauntlets."
The chainmail is also made of plastic, and in fact, comes from Scott's 2005 film "Kingdom of Heaven." Created in New Zealand's Weta workshop, the chainmail is manually crafted, with workers creating each actual circle and joining them by hand. This included a half-visor, which was designed especially for the production by English. A total of eight full suits of duel armor were created for the production. The stand-ins and stunt doubles needed identical versions, and different versions which showed the damage to the armour as the joust progressed were also needed.
London's FBFX, known for their masterful paint effects, was responsible for painting all the armor. When designing looks for the principal cast, Janty starts with fabrics. "I go to five or six outlets, two in Florence, one in Lyon and one in Rome and buy what I think is suitable," she explains. "And then the cutter will create something from my pile of Le Gris fabrics or Carrouges fabrics."
While The Last Duel relies heavily on research and honestly representing the movie's time period, Janty also added pieces that reflected each character's their personality. "Pierre who is played by Ben Affleck, I just kept adding more stuff. We put more jewels on him we gave him gold and black shoes we put more fur it was just adding more and more until he looked like a Christmas tree and I loved that," said Janty.

"We enhanced Adam's whole look as he got richer and he got more glamorous; as he got richer his cloaks were longer and his armor was golden or gilded. It was it was a lovely arc to build on. [Then there's] Jodie [who I] started off making her glamorous clothes and then realized I needed actually to bring out the linens," said Janty.
For Damon's character, Janty remembers Scott describing him as more of a military man, not a fancy man. He described Adam Driver's character Le Gris as someone who would be driving a Ferrari, which made her laugh. Le Gris' wardrobe looks slightly heavier and more structured, all his shirts are embroidered and he is in black most of the time.
For Marguerite, whom Scott describes as a dressed down noble, Janty chose a variety of different fabrics which she draped on Jodie Comer and photographed. "She has several dresses in linen, which are very functional, which she wears around the farm when she is collecting rent," she says. "Her duel dress is very simple. Ridley wanted her in black on the scaffold, and we found the most glorious fabric that really stands out. It has a very striking neck piece and is worn under a cloak."
As with all the costumes, there was an incredible amount of attention paid to detail. In one dress worn by Comer, there are four fabrics in the sleeve alone. "There's obviously the sleeve fabric, there's the lining, there's this inner sleeve, and the inner sleeve lining, and that's not counting all the embroidered details elsewhere," says Janty.
Celebrated composer Harry Gregson-Williams, who has worked numerous times with Ridley Scott over the past decade, created an original score for The Last Duel performed by a large orchestra and choir, in addition to utilizing a group of medieval instruments, a renowned vocal ensemble and some leading vocal soloists. The score was recorded in Los Angeles with musicians and a range of period instruments such as wooden flutes, hammer dulcimers, a consort of viols (the precursors to the violin, the viola and the cello) along with a cathedral organ and a lute.
"Ridley is an artist, first and foremost, and I know that he paints rather well. He might talk to me using expressions and language that apply to painting, but that have a similar connotation within music. For instance, whilst discussing the very first scene in the movie – a scene that is very intense – he might listen to what I have written and guide me towards where he wanted the music to be by discussing how the tone of what he's hearing could be darker or heavier, almost as if he is referring to a color palette on a canvas."
"I think it's the emotion and the story when [I] first reading a script [that I wanted to express]. I'm trying to picture in my mind how a character is going to, to what where their arc is going to be. [It's] really the journey and where the essence of the story is but I prefer to wait until I've got a first cut which might be four hours long might be really really long and quite a lot of what I see is not going to end up in the final film but at least then it brings me up to date with Ridley's thinking what he's really thinking also gives me a little shot at [how] Janty's been dressing them and and how Dariusz has shot the damn thing. I can't really tell that from the script," said Harry.

However, "the music had to definitely come from a very pure perspective. It couldn't be passing judgment. Music is asked to make up for things that haven't perhaps [happened]. Say two actors are doing a scene and there's no tension when there needs to be tension, you can always do something with music you can do something in the edit you can perhaps sharply edit that scene to make people feel like there's something some anxiety in the air but you can also lay on layers and layers of music that do a similar thing now. [Its] got its place [but] not in this film at all," Harry explained.
"It couldn't be the case [here], it had to be [pure] because of the nature of the story and also Ridley doesn't really go for that stuff. If you listen to the Martian it's probably more than 80 minutes of music in that movie and some of it is is doing a little bit of what I've described that is building tension and anxiety where perhaps there needs to be more than there was. It reminds me of something Jeffrey Katzenberg said to me when I was doing the first animation for Antz the it was the first scene and you can see a load of ants in their colony and the music I had prepared for it wasn't it wasn't particularly big and he was like, 'Harry we got to make people believe this is a bloody great big colony here, they need size to the music.' So music can be used to to accentuate things in a slightly let's not say dishonest way but an amplified way so in this movie it definitely wasn't [what I went for] I got to play a bit more straight," Harry concluded.
To learn more about The Last Duel including how everyone was surprised by the movie's ending, check out the full interview in the video above. Check out our interview with Ben, Affleck, Jodie Comer, Matt Damon and Nicole Holofcener here.
The Last Duel is currently in theaters only.