In recent years, EA has simply updated the rosters, shuffled around a few ideas, maybe tweaked a few things, and called it a new Madden game. The problem with yearly releases is a topic for a whole other article, but sports games are always some of the biggest offenders. Thankfully, however, this year marks the beginning of a new era in Madden NFL; this is the era of the Infinity Engine. The debut of this new animation/physics hybrid gameplay engine is the biggest advancement Madden has made this entire console generation, and has a lot to do with why we think this is the best Madden ever made.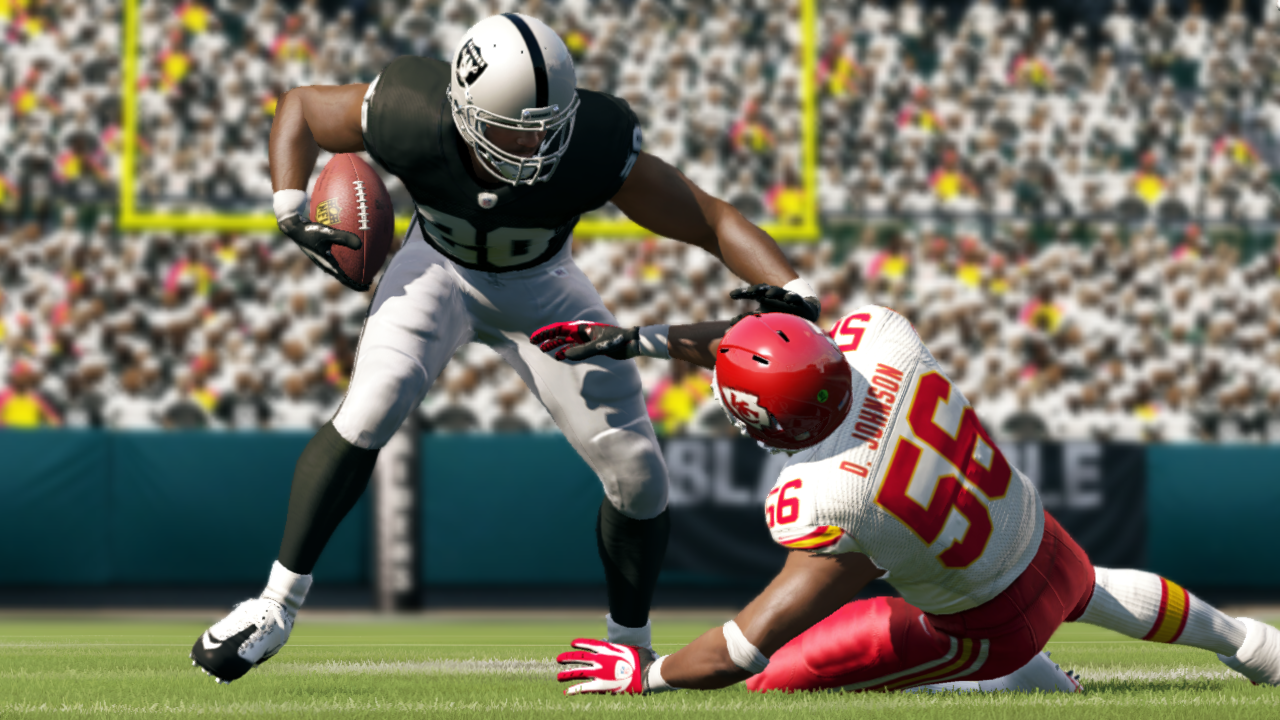 [one_fourth]This year marks the beginning of a new era in Madden NFL.[/one_fourth]
Now, let me back up a little bit to give some context. Anyone that has been playing Madden for the past few years probably knows what I'm talking about: linebackers always jump 40 feet into the air to knock down even the fastest bullet passes that they didn't see at all, cornerbacks psychically know exactly when to put their hands up to intercept a pass behind them, receivers slide across the field like on ice skates to catch passes that were way off target; the list goes on and on.
Well, the good news is that most of these glaring issues have not only been fixed, but they are only the minor fixes on a massive list of updates and changes. Given the unique nature of this being a sports game, this review will be structured slightly differently: I will first explain all of the changes/upgrades to the core gameplay then explain the new/updated features of the modes and structure itself.
The first major overhaul that you will immediately notice before even beginning a game is the overall presentation. Borrowing inspiration from the likes of NFL Network, CBS, etc. you feel like you are truly a part of an NFL broadcast. The pregame menus are all streamlined and no longer appear as a simple list you pick from; it's all part of a living and moving interface to navigate. EA has even scrapped the EA Trax from previous years and instead created an entirely new soundtrack for the game – and it sounds great.
Once you actually do get inside a game itself, you'll see the EA Madden Primetime images flash across the screen as the marquee players are highlighted with up-close shots – this is a great touch and really highlights the improvements they've made on individual faces themselves. Peyton and Eli Manning no longer look exactly the same!
After the key-player spotlight, it transitions to a panorama view of the field, and finally the in-game representation of Jim Nantz and Phil Simms – just like a real CBS broadcast. Their commentary definitely sounds a lot more conversational and easier to listen to than the annoying Chris Collinsworth, but it still has most of the same problems. They will often say something that is totally incorrect (saying that it was a great run by the halfback, when the QB actually ran it,) or just plain wrong (saying that it was a great read by the QB when it was 3rd and long and the pass went for only 2 yards.) But, I guess that is to be expected.
Unfortunately there has been one major glitch for me so far during this review period, which is during play-calling after a play (say, 2nd and 7) the HUD has messes up. At the top, it doesn't display any bar at all, which is extremely troublesome when in the middle of the game. This means you can't see the score, how much time is left in the quarter, how much time is left on the playclock, or where the ball is on the field. They need to fix this, soon.
Once it gets down to the nit and gritty of the gameplay however, that's where this latest installment really shines brightest. The new Infinity Engine is more than just a marketing term – it really does allow an almost infinite amount of unique moments. Player interactions are revamped, they have to struggle to stay balanced, actually stumble realistically now, and even have muscle tension. The best way to explain this is simply with a series of examples.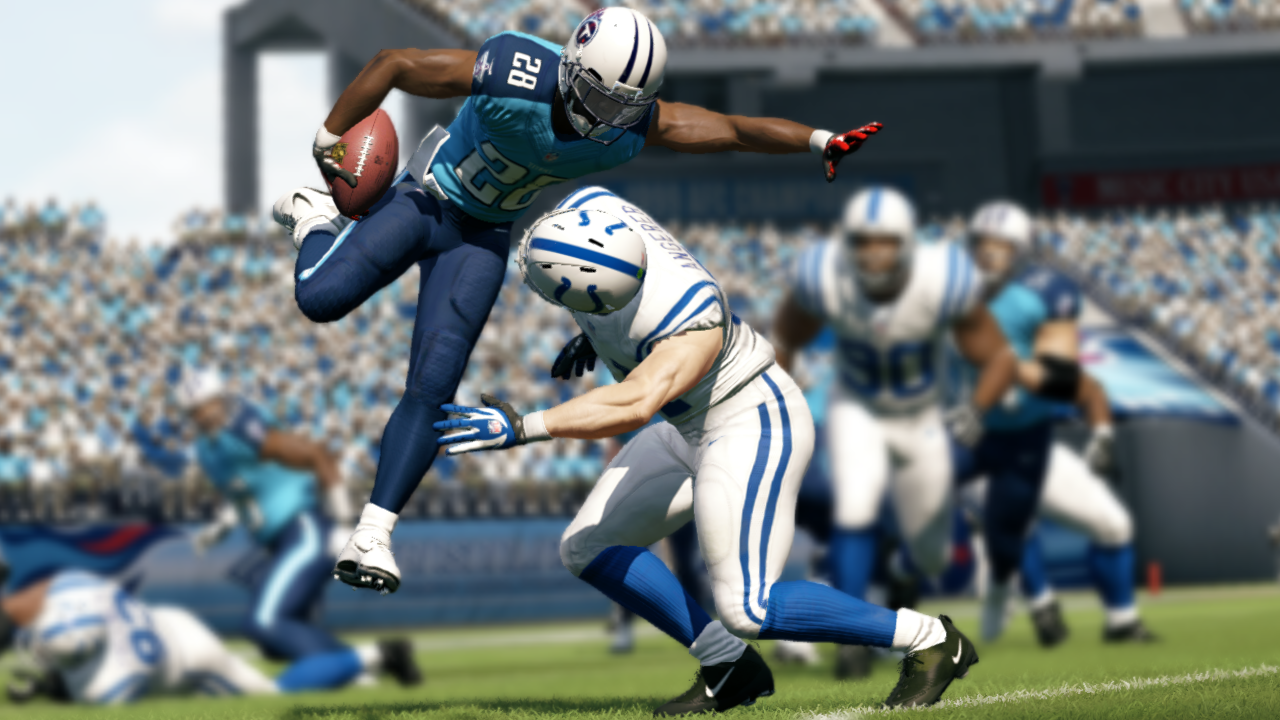 Let's say you are running the ball up the middle. In previous Madden games, your running back would easily get wrapped up, or fall down if he bumped a defender at all. Or he would just perform the same running animation while facing the backside of a blocker. None of that is true anymore with the Infinity Engine. Now, if you collide with a blocker head-on, you may very well trip and fall down. When riding on the side of someone holding a block, you will notice the subtle movements of the players body as you weave between people, or brace yourself with your hand against them to maintain balance. On the goal line, I dove forward to squeeze between blockers many times, almost lost my balance, but the back I was using had the awareness to stick his hand out and crawl/lunge forward just enough for the score.
[one_fourth]The dynamic gameplay is where Madden 13 really shines brightest.[/one_fourth]
The game doesn't use a purely physics-based engine like Bakcbreaker, though. Instead, the game seamlessly blends animations and physics together, to prevent stuff like rag-dolls from happening. Another great example is the fact players aren't recognized as being down until they are actually down. Let's say you are stood up by a defender, another one comes in and hits you from the side (yes, gang tackling works now as well) and it causes you to roll over on top of another defender. If you are not down, as defined by the rulebook, and are simply lying on top of someone else, your player will actually try and get back up.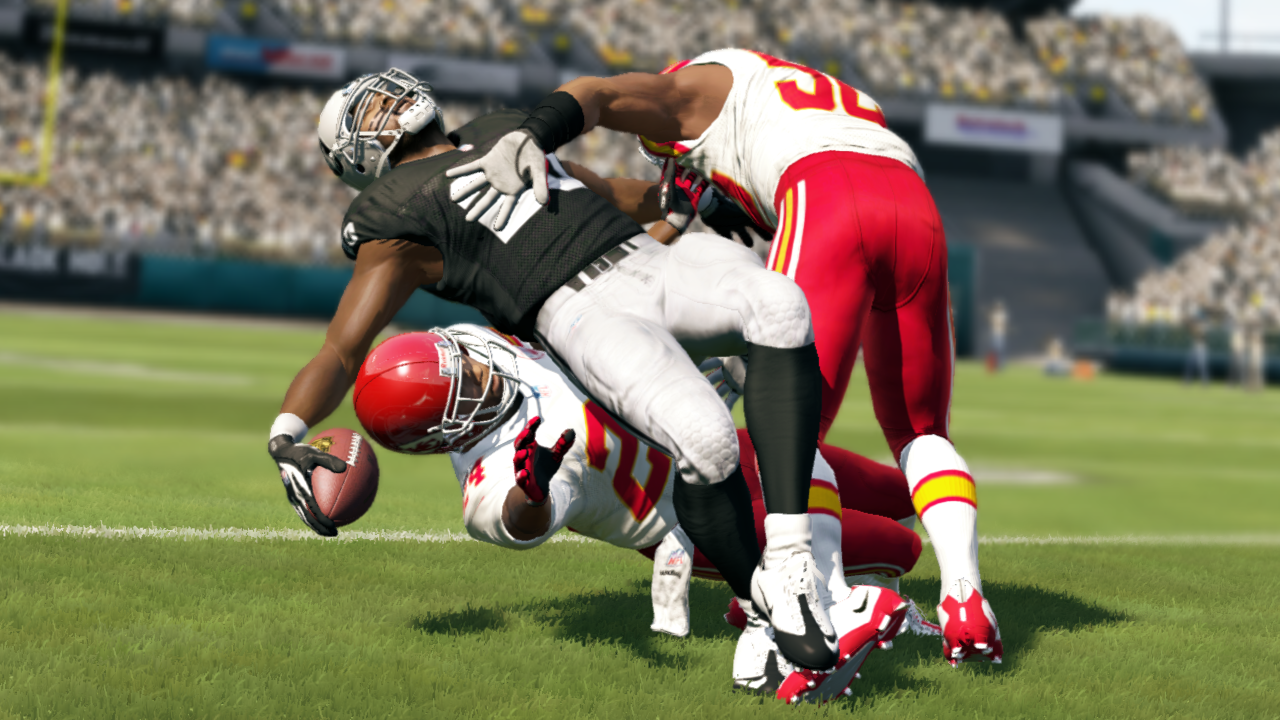 There are over 20 new passing trajectories now as well, and they revamped the Total Control Passing, allowing for more precision and fitting the ball into tighter spots. Cornerbacks are no longer psychic either, but this addition goes both ways – neither are receivers. Their icons will light up once they are looking for the ball (note: it does not mean they are open, simply that they are potentially ready.) However, if a player controls a character, they can manually catch it still. In addition to this are 20 new drop-back animations, more throwing animations, and over 400 new catching animations. This has all gone a long way to improving the look and feel of the game as a whole.
Now that the biggest changes to gameplay are out of the way, it's finally time to discuss the changes to the core game modes. There is no longer any such thing as offline franchise mode, Superstar Mode, or online leagues at all. Those labels no longer exist in Madden. Instead, there is one single mode called Connected Careers. This is a really smart way for them to streamline all of the game modes, and hopefully means that updates and upgrades will be easier, since it applies to everything instead of updating specific modes one at a time.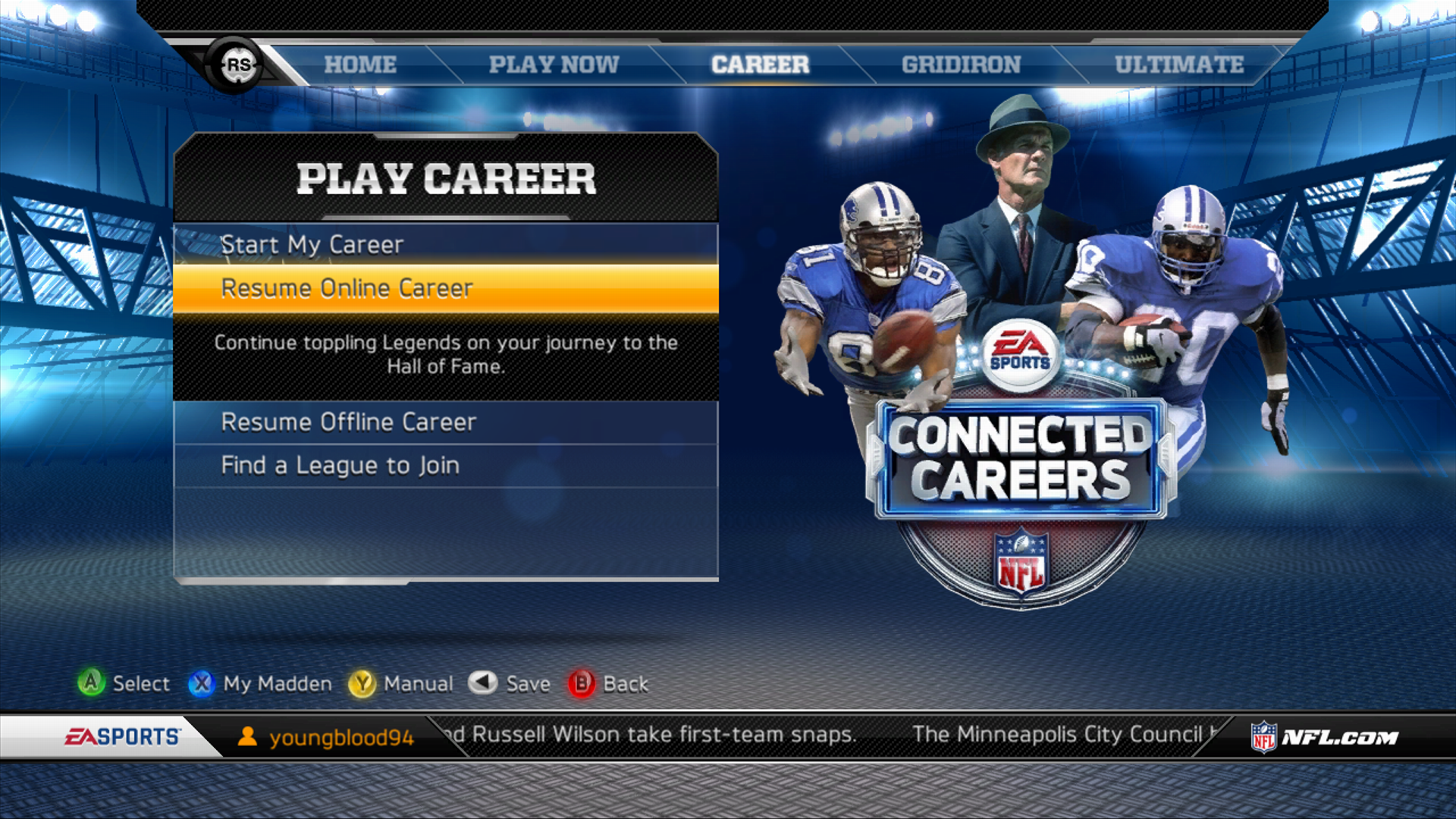 Now, when you start a Career you choose either Offline or Online, then you choose to play as a Player or a Coach. If you choose Coach, this is Franchise mode with a twist. You can create your own coach from scratch (for which they added GameFace, it allows you to upload your images online and create a real 3D model of you in the game,) take over the role of a current coach, or take on the role of a legendary coach. This adds a lot of re-playability and depth to franchise mode right from the start. Once you get in, there is a brand new interface for this mode as well. The News screen is by far the nicest – it features a news headline screen with the top stories from around the league, along with a fake Twitter feed on the right side. EA got many Twitter personalities to lend their touch, and it really puts a nice bow on top of this package they've created.
Connected Career for Players is exactly the same, but you don't get to manage and control the entire team – only one player. It has the same general setup as well for choosing a new player, current player, or legendary player. However, the best addition that this has for both is the XP system. For example, as a player if I reach my weekly milestone of rushing for 100 yards, I get an XP bonus for that. If I reach 1,000 rushing yards in a season, I get an XP bonus for that. The list of rewards and goals goes on and on, and you then spend those to upgrade your player's stats and traits, or your coaches stats and traits. It is a very elegant feature that streamlines all of the modes together, and is surprisingly deep for a first attempt.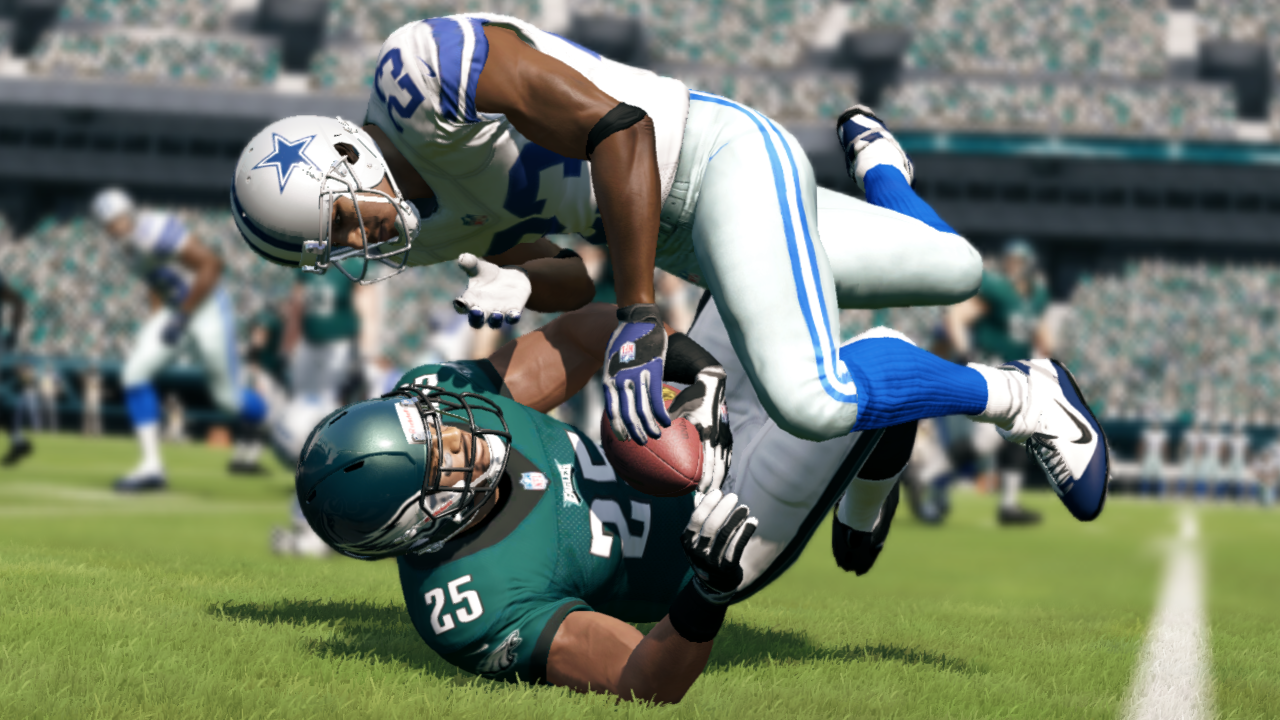 However, since this is the first version of this mode, there are quite a few issues. First of all, the rewards and goals are nice, but do get repetitive after a while. It would have been nice to have smaller in game rewards as well, instead of just the larger ones you track outside of a game. Most importantly though, is that the rest of your team just really sucks compared to your character, regardless of ratings.
The player should definitely want to be the star, but the game forces you to be the star, or you will almost always lose. When my running back was on the field, the quarterback could not complete a pass to save his life. If I'm averaging over 100 yards a game, but we are still ranked 31st overall for offense, something seems off. Furthermore, sometimes when you are wide open, the quarterback just won't throw the ball to you, even if you call for it. This bothered me most, because on screen plays he literally would only stand there and get sacked. Every single time.
Madden Ultimate Team is back as well, this time with challenges to complete against the computer as well to gain extra coins. Additionally, you get to set a certain card at the beginning of setup as a team captain. There is also a new Madden Gridiron Club, this functions like a hub of other features like Madden Moments Live, and even showcases tips and tricks videos for improving your game. And finally, one of my personal favorite additions: the Canton Greats. This is an extreme team in Play Now that allows you to play as many legendary players all on one team (this includes Walter Payton, Barry Sanders, Joe Montana, Troy Aikman, Deion Sanders) and the list goes on and on.
All of this review covers the PlayStation 3 and Xbox 360 versions of the game, but the 360 does have Kinect only features, of which fellow Senior Editor of The Koalition, Richard Bailey Jr., explains below:
Madden NFL 13 for the Xbox 360 offers Kinect functionality to further enhance gameplay mechanics on both the offensive and defensive sides of the ball. Players are given the ability to shout out several play commands to adjust their formation according to each gameplay scenario.  An on screen microphone indicator makes it easy to see if your play has been successfully communicated to your teammates.

While EA Sports has maintained the tag of "Better With Kinect" to emphasize this feature, it's worth noting that this option does occasionally suffer from delayed timed responses.  Many will experience mixed results based on how close they are to their Kinect sensor when yelling out commands. However, it's worth noting that the Kinect implementation doesn't make or break the core product itself. Simply put, this is the best Madden this generation and any football fanatic shouldn't hesitate to pick this title up on day one.
EA is still having trouble with Connected Careers of course, and it is far from perfect, but this is just a sign of what's to come. The fact that the biggest problems with Madden this year are because of the new ambitious features (and not because of the gameplay mechanics that have been in place for about a decade,) is a very good sign. Madden NFL 13 is an evolution of the franchise almost entirely for the better. This is the beginning of a new era in Madden, and with the Infinity Engine, the possibilities are almost endless.
Madden NFL 13 releases for the Xbox 360, PS3, PlayStation Vita, and Wii on August 28th in North America and August 31st in the EU. The Wii U launch date has not been announced. A separate review of the Vita version is coming soon. Please let us know of any comments or questions you have about the game below! What's your favorite team?
This review was based on a physical retail copy of the game for the PlayStation 3 provided by EA.